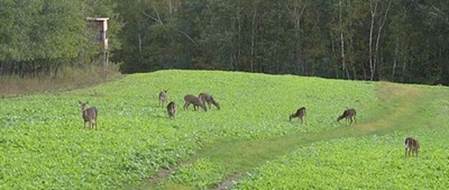 When our spring seed arrives, we will post an announcement here!
From start to finish, let us help you plan your deer plot:
Unsure of your soil? Bring in a soil sample and we will have it lab tested ($25.00 cost, subject to change.) When the results come in, our guys will work with you on how to amend the soil for better results.
To prepare your plot, we have a generic round up at 41% Glyphosate to kill off everything green & growing.

F
or soil improvements, w
e carry granular lime, sulfer, peat moss, and fertilizers.

Purchasing the variety of seeds for your plot can be either from commercial blends of Brier Ridge, Country Deer Trail Mix, & Bull's Eye Turnip Wildlife Mix from La Crosse Seed Company or customizing your own blend. Choose from 5 kinds of Clovers: Aliske, Ladino, Red, White & Yellow; Brassicas: Kale, Sugar Beets, Radish, Trophy Rape, Turnips; Legumes: Austrian Peas,
Soybeans (Forage style or the "Farmer style" that sets more pods); and Wildflowers/Forbs:
Buckwheat,
Chicory,
Wildlife Dwarf Black Oil Sunflower. We also carry: r
egular Oats, Buck Forage Oats, Fall/Winter Rye,
Wheat, Corn, Wildlife Sorghum. Most available either by the pound or a 50# Bag.

Having issues with grass in your food plot? Check out the grass killers we have that will not harm your folage!
To enhance the deer's well being, consider offering t
hroughout the year one of o
ur mineral blends in different formats:
Kress Kustom Deer Mineral Mix,
Deer & Elk Pellets from
Deerlicious
,
&
Mineral Block 25# (cherry rush scented);
Purina's Antler Max 33# Block (acorn scented),
12# & 20# Trophy Rocks, and 30# Trophy 65 Supplement or ask us for suggestions for your land. Happy Hour is a super concentrated liquid mineral attractant with a Cherry Rush scent.
When the time for hunting draws near, we have shelled corn, roasted soybeans, raw soybeans, molasses, and Apple Scent from Deerlicious . We also stock from
Big Tine: Last Call Attractant, Cover Scent (Cherry Rush)
For questions about your deer plot and all your feed needs, please call us at 920-989-1442 or send us a message using the Contact Us button.