Questions? Stop in at N599 Military Road, Sherwood or Call us: 920-989-1442
We carry many items for your fur babies - food, bowls, treats, toys, litter, bedding, collars, and leashes.
We carry a wide variety of dog & cat food; there is sure to be one that fills your pets' needs!
EXCLUSIVE

CANIDAE

INFINIA

COUNTRY VET

COUNTRY VALUE CAT

CAT LITTER - REGULAR & SCOOPABLE

RED BARN DOG TREATS

DOG GONE SMART PRODUCTS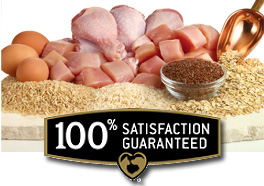 Click here to learn more about the Exclusive brand!
Exclusive Dog & Cat food is only sold by independent retailers - not the "big box" stores. Exclusive prides themselves in always using fresh, never frozen chicken, or natural lamb in their formulas as their number one ingredient. Exclusive also contains whole grains -high-grade, natural ingredients with vitamins and minerals - antioxidants for a strong immune system and omega fatty acids for healthy skin and coat. They also pride themselves in their 100% satisfaction guarantee. If you are not completety satsified with one of their products, please return the unused portion to the store of purchase for a full refund or replacement.
Buy 8 bags of Exclusive dog or cat food (15# size or larger), the 9th bag is FREE!
The Sherwood Elevator currently carries the Exclusive in 6 dog + 2 cat formulations:
Chicken & Rice Puppy - support healthy growth with a 29% protein, 18% protein. Available in 15lb & 30lb.
Chicken & Rice Adult Dog - a 26% protein, 15% fat formula. No corn, wheat, soy or fillers. Available in 15lb & 30lb.
Lamb & Rice Adult Dog - a 22% protein, 12% fat formula. No beef, pork, wheat, soy, corn or fillers. Available in 15lb & 30lb.
Healthy Weight Adult Dog - help keep your dog at a healthy weight with a delicious reduced-fat, nutrient rich 26% protein, 9% fat formula. Available in 15lb & 30lb.
Chicken & Rice Senior Dog - helps maintain optimal body composition with a 25% protein, 11% fat formula and the nutrients levels older dog needs, including: Glucosamine & Chondroitin Available in 15lb & 30lb.
Chicken & Rice Large Breed Adult Dog - help dogs with bigger frames maintain healthy body mass with select wholesome ingredients that are mixed in a 25:13 protein to fax ratio, designed for large breed dogs. Available in 30lb.

Chicken & Rice Cat (cat & kitten formula) - help build strong, lean muscles with this 32% protein, 21% fat formula. Available in 5lb & 15lb.
Chicken & Rice Weight Management & Hairball Care Adult Cat - this 32% protein, 9% fat formula helps control hairballs with natural vegetable fiber. Available in 5lb & 15 lb.

Canidae - Buy 12 of the same item dog or cat food , the 13th of the same item is FREE!

CANIDAE® prides themselves on the highest standards for food quality and safety. They create premium dog food and cat food that is delicious, nutritious—and that pet parents know they can rely on.
Canidae is 100% family owned and operated. They also own and operate their own research & development center and manufacturing facility, Ethos Pet Nutrition, in Brownwood, Texas. They are proud to make quality pet food for you and your pets:
No wheat, corn, soy, fillers, antibiotics, hormones, artificial flavors, colors or preservatives.

Guaranteed levels of healthy omegas 6 & 3 for beautiful skin and coat.

These are

great tasting formulas that dogs love!

Made in the U.S.A.

Guaranteed levels of live probiotic cultures to support healthy digestion

Guaranteed levels of powerful antioxidants to help maintain a healthy immune system
Click here to learn more about Canidae and their brand.
CANIDAE® Life Stages for Dogs
CANIDAE® Life Stages has a formula for dogs of all breeds, ages, and sizes.
Formulated for Dogs of All Life Stages
We use 4 high quality meat meals for great nutrition: chicken, turkey, lamb & fish

Great for dogs and puppies of all ages—making mealtimes with multiple pets less complicated

We stock Canidae All Life Stages for dogs in 44# and 15# bags.
We will special order for you.
For those who like to supplement with canned dog food, We will special order for you Canidae, Evangers.
We carry Infinia with Salmon as the #1 ingredient! The Holistic pet food, with superfoods and grain-free for pet lovers that want the best! This is also great alternative for dogs with digestive issues. Buy 8 bags, get the 9th bag FREE!



Country Vet dog & cat food are available. Made without corn, wheat or soy.
BUY 10 BAGS, GET THE 11TH BAG FREE!
Click here to learn more about their Country Vet line of dog & cat food.
Click here to learn more about their Naturals line.

We can supply: (click on each food to learn more specifics)
Choice Active
Choice Maintenance
Sportsman's Select
Choice Hi-Protein
Choice Cat
Senior
Puppy

We stock the Natural line:
Active 30-20
Butcher Shop Blend 24/14
Healthy Diet Adult 24/14
Healthy Puppy 28/18
Grain-free 28/16






For our Farm Cats, we carry the 40# bags of Diamond Pet Foods Country Value Dry Cat Food, which is wholesome nutrition for Cats. Formulated with increased levels of high quality protein, in a palatable formula even finicky cats will love. Essential amino acid-taurine, and is urine pH balanced and magnesium controlled.






We carry the following choices for Cat Litter:



We carry RED BARN PREMIUM DOG TREATS! Quality products from a U.S.A. Company. Check us out for our competitive pricing on all our products!
The Original Dirty Dog Doormat - pictured at top of page.
Welcome Your Pet, But Not The Mess!
The Dirty Dog Doormat by Dog Gone Smart magically soaks up water, dirt, and mud so the mess stays in the mat...keeping your floors clean and dry!
Made from super absorbent material that soaks up to 7X its weight in water and mud
Features 50% more Advanced Microfiber Technology strands per inch than the competition
Dries 5X faster than ordinary door mats
Plush and velvety soft, you can feel the difference
Super Gripper Backing so it stays in place
Machine washable
The
NEW
Cat Litter Mat
solves the problem of messy litter scatter once and for all!
Just like our Award-winning Dirty Dog Doormat™, this Litter Mat is a giant super sponge!
The advanced wicking technology pulls excess litter off the cat's paws & into the mat
Soft microfiber fabric is gentle on paws
The gripper backing helps keep mat in place
Machine wash or shake out excess litter to clean
Multi-use: Under food & water dishes, too!