FEBRUARY 22, 2023 UPDATE: OUR GARDENING ITEMS HAVE STARTED TOARRIVE.


2023

GARDENING INFORMATION TO

RESERVE

YOUR SEEDS & PLANTS: SIMPLY DROP OFF OR EMAIL YOUR 2022 ORDER TO US.
1. PLEASE CHOOSE YOUR SEEDS & PLANTS- LISTED BELOW
FOR PREPACKAGED - NUMBER OF PACKAGES
FOR BULK - OUNCES/POUNDS NEEDED. A SEEDING CHART IS LISTED BELOW, OR TELL US YOUR ROW LENGTH AND WE WILL ESTIMATE FOR YOU.
2. DROP YOUR LIST OFF OR USE THE CONTACT US BUTTON ON THE LEFT SIDE OF PAGE TO E-MAIL US.
3. WE SEND AN ACKNOWLEDGEMENT OF YOUR ORDER.
4.
WHEN OUR SHIPMENT ARRIVES,
WE WILL CALL TO CONFIRM PAYMENT OPTION AND PICK UP TIME.
RETURNING FOR 2023: TOMATO SEEDS, POTTING SOIL, AND POTS TO START YOUR PLANTS EARLY!
BEAUREGARD SWEET POTATO PLANTS!
THESE WILL BE AVAILABLE IN LIMITED SUPPLY, SO PRE-ORDER NOW TO GUARENTEE YOURS.
High yielding, delicious sweet potato to store, bake, and process! It's widely grown for that delicious flavor, and also its high percentage of good-sized, uniform roots.
Botanical Name:

Ipomoea batata 'Beauregard'

Self-pollinating.

Zone:

3-9. We are zone 5

Season:

Spring

Sun/Shade:

Full Sun

Height:

1 1/2 to 2 feet tall.

Spacing:

12 - 18 inches apart in rows that are 3 feet apart.

Spread:

6 - 12 feet.

Form:

Spreading vine.

Foliage:

Lobed leaves with sharp elongated tips

Depth:

Set starts in 2 inches of soil, firm and water well.

Soil Preference:

Well-drained soil with some organic matter.

Days to Maturity:

90 Days

Yield:

Heavy yields.

Growth Rate:

Fast once established, which takes approximately 4 - 6 weeks

Fruit:

Bright copper skin, deep orange flesh.
PLEASE CONSIDER PREBOOKING YOUR POTATO AND ONION ORDER. VARIETIES ARE LISTED BELOW.
PREPACKAGED SEEDS: BEAN (BUSH) - Home Run, Jade. BEAN (POLE) - Kentucky Wonder Brown, BEET - Cylindra, BRUSSEL SPROUTS - Long Island Imp, CARROT -Tendersweet, Science Fiction Blend, CORN - Ornamental Large Ear, CUCUMBER - Burpless Garden Sweet, EGGPLANT, GOURD - Small Ornamental Blend, KALE - Blue Curled Scotch, KOHLRABI - Kossak Hybrid, White Vienna, Winner Hybrid, LETTUCE - Buttercrunch, Cimmaron, Mesclun Mix, MELON - Delicious 51, PARSLEY - Triple Curled, PARSNIP - Javelin, PUMPKIN - Atlantic Giant, Jarrahdale, Lumina, Orange & White Mini Blend, Red Warty Thing, Small Sugar, RADISH - Black Spanish Round, RUTABAGA - American Purple Top, SQUASH - Butterboy Hybrid, Buttercup Burgess, Festival Hybrid, Hubbard Tru Green, Raven, Scallop Early White Bush, Sebring, SWISS CHARD - Technicolor Blend, TOMATO - Big Beef Hybrid, Ground Cherry, Martinos Roma, Mortgage Lifter, Super Sweet, Yellow Pear, WATERMELON - Au Producer and Baby Doll Hybrid.

HERBS PREPACKAGED: BASIL - Italian Large Leaf, CHIVES, CILANTRO - Coriander, DILL - Bouquet, Long Island Mammoth ROSEMARY and THYME. IN BULK FOR 2023: DILL - Long Island Mammoth

We stock in BULK seeds: ASPARAGUS - Mary Washington, BEANS - Slenderette, Tenderette, Golden Butterwax, BEETS - Detroit Dark Red, CARROTS - Davers, Scarlet Nantes, CUCUMBERS - Pickling, Salad Marketmoore, DILL - Mammoth, KOHLRABI - Purple top, LETTUCE - Black Seeded Simpson, Oak Leaf, Pomegranate Crunch, PEAS - Sienna, Sugar Bro Snap, Popcorn - White Robust, PUMPKIN - Big Max, Connecticut Field, Howden Field, RADISH - Champion, French Breakfast, German Giant, Sparkler White Tip, SPINACH - Aztec Hybrid, SQUASH - Zucchini, Acorn, Butternut, Vegetable Spaghetti.

SWEET CORN - We prepackage our Sweet Corn in 1/4#, 1/2#, and 1# Bags. Larger amounts available.
SERENDIPITY is an 80 day Bicolor TripleSweet with 8" ears.
HONEY SELECT is a 79 day Yellow TripleSweet with 8.5" ears.
GLACIAL is a 78 day White Supersweet with 8-8.5" ears.
SIGNATURE XR is a 72 day Bicolor Supersweet with 8" ears.


Olds Garden Flower PREPACKAGED seeds in SMALL PACKETS: ASTER - Powderpuff, CANDYTUFF - Dwarf Fairy, COSMOS - Sensation Mix, GYPSOPHILA - Baby's Breath, HOLLYHOCK, MARIGOLD, NASTURTIUM, SUNFLOWER,and ZINNIA: Button Box, Liliput Mix, State Fair Mixed Colors, & Whirligig Mixed Colors.
WILDFLOWER MIX PACKETS Sold in 2 ounce packats - available in MIDWEST WILDFLOWER MIX (Native to our area), BUTTERFLY FLOWER GARDEN MIX (To attract many species of butterflies), HUMMINGBIRD FLOWER GARDEN MIX (Provides tremendous color impact and produces lots of nectar), and BEE POLLINATOR WILDFLOWER MIX (mix of perennial wildflowers and native grasses provides a ready food source to bees and other beneficial pollinators).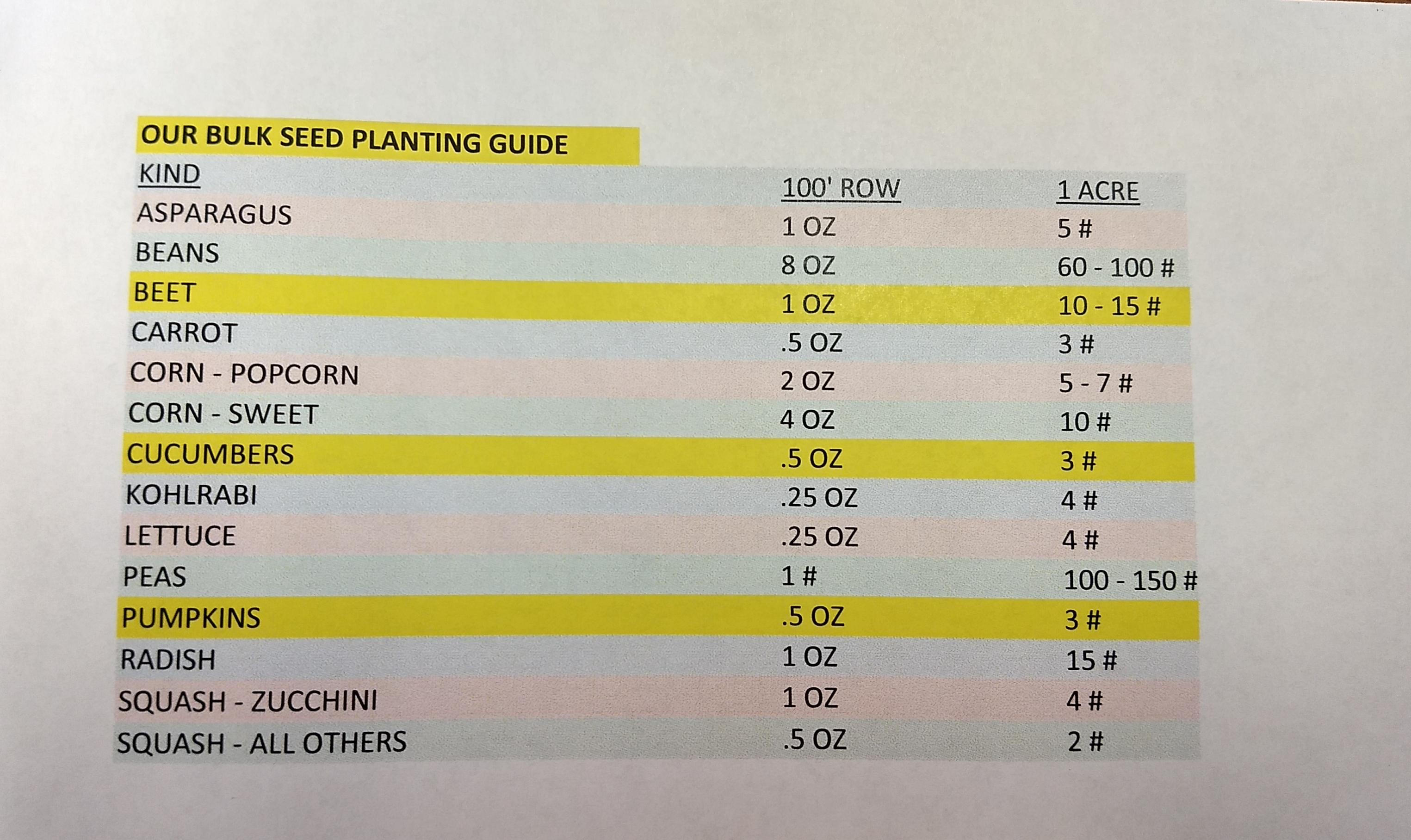 We proudly carry Olds Garden Seeds! These are only sold through independent garden retailers nationwide. The Olds' brand dates back to 1888, when Levitt Lincoln Olds founded the L.L. Olds Seed Co. at Clinton, WI. Through the years, Olds became known for selling only the finest quality seed of better varieties, whether selling alfalfa and seed potatoes for Wisconsin farmers or garden seed through a mail order catalog for 100+ years. We sell Olds seed by the packet and in bulk. We sell in bulk to save YOU money! For example: prepackaged beans are $1.99 verses the same amount of bulk seeds is about $0.70. Our seeds have arrived and are available until we run out.
Not finding what you are looking for? Ask us, we may be able to special order just what you want!

Onions sets & plants
Sets - We offer white, yellow and red onion sets and are pre-bagged by the pound, or choose as many or few as you care for. These are the spring green eating onions.
Plants - We offer a red, a vidalia type, and a yellow sweet spanish (our most popular!). Plants bundles range from 30-50 onions per bundle. These make the large bulb for cooking!

Potatoes - Please order by the pound or the number of potates per variety. (Sold by weight) We currently offer 5 potato varieties:
Kennebec - (medium late white) - Oblong white tubers. Cooks and bakes wonderfully. One of the best for winter storage.
Gold Rush (russet) - Long, russet-skinned spuds with bright white flesh are good baked, broiled, or fried! Resistant to hollow heart and scab.
Norland - (early red) - White flesh of highest cooking quality; stores well.
Pontiac - (medium red) - An excellent all purpose potato; stores well.
Yukon Gold - (early-midseason yellow) - Buttery yellow flesh; sure to be a hit no matter how you serve them. Stores very well.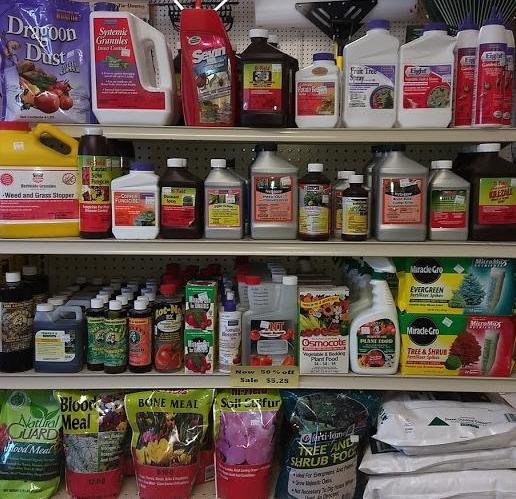 For your gardening supplies, we carry gloves, hand tools, rakes, shovels, and sprayers for our liquid products.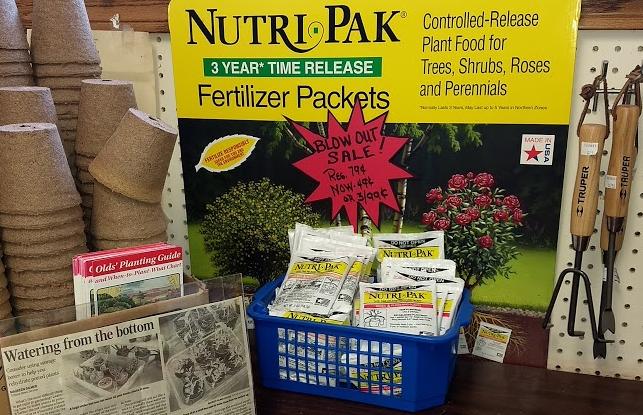 To enrich your garden success, we carry soil conditioners, fertilizers, fungicides, insecticides,
weed & grass killers/preventers, Diatomaceous Earth, and several items specific to enhance your tomatoes.
We do have individual 3" biodegradable pots and starter soil - good for starting your plants early!